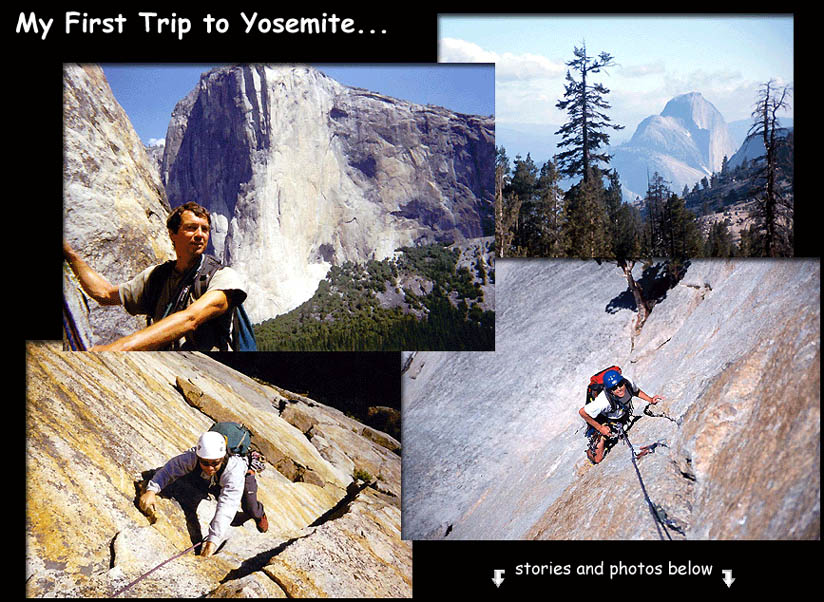 In June, I had the long anticipated pleasure of climbing in Yosemite Valley. Wow! I won't even try to describe it's beauty here because I can't. You have to see it! The longer you're there... Wow! Seriously... go!

June, '03

I met Brad Davidson in Reno and we headed to Tuolumne Meadows in the morning. It is an enchanted place. I had no idea that most of the granite domes in Tuolumne were so close to the road. We stopped across the street from the monarch of the area, Fairview Dome, and agreed that it looked like the business. Brad and I were both leery of the glassy-smooth Yosemite granite we had read so much about. We decided to start smaller.
After gawking like the tourists that we were for a few more minutes, our attention turned to the dome that was right next to our car. Modest by comparison, Daff Dome offered a more reasonable first Yosemite experience. The West Crack 5.9 seemed like the classic, so we racked up and started hiking. We found one party on the route when we arrived but they were on the second pitch so it wasn't a problem. What was a problem was my forgetting some of the cams back at the road. I was fully warmed up by the time I ran to the truck and back.
The West Crack turned out to be a confidence booster. The rock was not all that different from Lumpy Ridge and I felt relaxed standing on the dishes and smears. The crux had a nice bolt to clip and the second pitch had a wonderful overhang with big jugs and great gear. Another beautiful crystal-lined, hand crack and some slabs and Brad and I were standing on top of our first Yosemite climb. It was everything a classic should be. Wheeee! Off to the Valley...
| | | | |
| --- | --- | --- | --- |
| Brad D. on the first pitch of West Crack on Daff Dome in Tuolumne Meadows. | Me on the third pitch of West Crack. This was our first route in Yosemite. | Brad D. approaching the top of Daff Dome. | Daff Dome as seen from the road. West Crack climbs the steep face on the left side of the Dome. |

June, '03
I had just stepped out of my truck and was staring up at Camp 4 Wall when I noticed that the huge guy next to me was doing the same thing. Brad walked up and the three of us exchanged a few words before parting. Unfortunately, Brad and I didn't get a site at Camp 4 that night and had to sleep outside the park at a campground. Sometime that night, a bear ate some of my food that wouldn't fit into the bear box and then walked around my truck as I slept inside. I didn't wake up, but there was no doubt what happened with the pancake batter, bear tracks circling the truck.
Again, within minutes of arriving, we bumped into Paul, the huge climber we had met the day before. Paul hailed from Prague originally, but he had been living in CA and climbing in the valley for some time. We talked for a while and he happily shared his wealth of beta about approaches and routes. It was plane to see that he truly loved climbing. His stories were as emphatic when he talked about a single pitch 5.6 as they were when we described the Wilson Overhang on the Steck-Salathe. The three of us spent the afternoon wandering around and pulling on the famous boulders of Camp 4. The Huber brothers and their friends were all doing Midnight Lightning, so we contented ourselves with the Bridwell Boulder. :)
I had been climbing with Brad Davidson for a few months prior to this trip, but mostly on sport routes in Logan Canyon. He had some trad experience and was looking to push his boundaries on this trip. I told him before he came that he would certainly be in over his head at some point. In this spirit, Brad led Paul and I up all three pitches of Commitment 5.9. He cruised the route and I started thinking about the biggest and hardest thing that we could all get up in a day.
The following day, the three of us swung leads up Nutcracker. We had agreed to do something big, and were giving ourselves one more crag route to get our three person system dialed in. (We were climbing on double ropes with both seconds climbing at once.) Tomorrow, we would put this to the test on the longest route I had ever attempted. The Northeast Buttress of Higher Cathedral Rock. Over the course of 11 Pitches, our party of three would search for the reason we had come to this place... self-knowledge.
| | | | |
| --- | --- | --- | --- |
| These are the footprints of the bear that got into the food we could not fit in the bear box. He stepped in flour and then walked around the back. While I was sleeping in the truck! | Brad D. leading Paul and I up Commitment. Lost Arrow Spire stands in the background. | Paul on Commitment. | Brad D. leading the second pitch of Nutcracker. This was Brad's final warm-up. Tomorrow we tackle the NE Buttress of Higher Cathedral Rock. |
| | |
| --- | --- |
| Brad D. pulling through the infamous mantle on the third pitch of Nutcracker. | Brad D. and me sitting on top of Manure Pile Buttress. |

June, '03

I had never climbed anything 11 pitches before. That being said, the Valley has a way of making you dream bigger. As it turned out, the NE Buttress had been on Paul's tick list for a long time and he was willing to have a go at it. He was uncertain whether or not we would make it as a party of three, but he wanted in none-the-less. I was heartened to know that Paul was coming and could share in the leading duties. In fact, I was confident.
Brad's response was "I don't know... do you think we can do that?". I knew that Brad was going to be in over his head on this one. This would be more than twice as long as any hard, rock route he had previously climbed. Still, I didn't think we were likely to get ourselves killed. I figured the worst case involved a chilly night on an uncomfortable belay ledge. The worst part about that being the knowledge that we had confirmed our status as punters.
We left the car at 4am. We returned 20 hours later at midnight. I hope to have a report on this climb from Brad D, but for now... here is how I remember it...
EARLY - drive - hike - start - really fun - kind of scary - fun - fun - scared - fun - SCARED - aid -fun - tired - fun traverse - fun - scary - exhausted - dangerous but too tired to be scared - top out at dark - drop rope to other party - dark - very dark - lose trail - dangerous down climb - feel shredded - dirty - must sleep...back in camp...no parking... park car on street...sleep
NOTE: In the morning, when we went to see if the truck had been towed, we found one of the doors wide open. Apparently, we just got out and walked back to camp without even shutting the door. "Well John, it 4th and 20, what do you think they'll do?..."
| | | | |
| --- | --- | --- | --- |
| The Cathedral Group as seen from Camp 4. | Higher Cathedral Rock from the approach to the NE Buttress. It seems smaller than it will in 20 hours when we're getting back to our car. | Brad D. on a beautiful 5.9 pitch low on the NE Buttress. | Paul at the base of the hard climbing. Pitch 6-8 loom above. |
| | | | |
| --- | --- | --- | --- |
| Brad D. traverses into the dihedral. | Paul, looking dubious of my route finding skills. :) | Brad and Paul at the semi-hanging belay on top of pitch 4. | Paul starting up the first 5.9 corner pitch. |
| | | | |
| --- | --- | --- | --- |
| Looking down at the crux pitch. Brad D. is nearest the belay and Paul is working his was out of the squeeze chimney. | Brad D. reaching the anchors. Another party, which we would later befriend and camp with, is visible below in the crux squeeze. | This is on the upper traverse. What a great pitch. The climbing is finally easy and the exposure is tremendous after spending three pitches in a corner. | Me arriving at the top of the 10th pitch. Only one to go. Of course it's wide and scary. I am so worked though I almost don't care. |

June, '03
After Brad Davidson left the Valley, Paul and I were left with a few days before Jason and Pina arrived. Having narrowly avoided an EPIC on the NE Buttress, we decided to take it easy and climbed the first 5 pitches of the Kor-Beck route on Middle Cathedral. It was a great route as advertised in our guidebook. This being our rest day, we spent the rest of it lounging around Camp 4. Our only two concerns were whether we had enough beer and what to climb next.
This was an easy choice for me. I wanted to do the East Buttress of El Cap. Although Paul had climbed this route before, it had been a while and he readily agreed to a repeat. At 13 pitches, this was the NEW biggest route I had ever climbed. I felt confident though. After all, we had made it up an 11 pitch route as a party of three. Two more pitches and one less climber seemed like a good trade in terms of speed.
I was getting anxious after the first couple of hard pitches but Paul assured me that it would soon get easier and that we would make up time. Well that's exactly what happened. It was nice to be back in Camp 4 by five o'clock. Unfortunately, I forgot to bring a camera on this climb.
| | | | |
| --- | --- | --- | --- |
| A casual day spent on Kor-Beck 5.9 on Middle Cathedral Rock. | A nice tree belay on top of the 5th pitch of Kor-Beck. | I met Paul within 2 minutes of stepping out of my truck. We climbed together for the next two weeks. | Paul and I climbed the 13 pitch East Buttress of El Cap. The route lies just to the left of the right skyline. This is a great route with a hard crux. (which I aided) I forgot to bring a camera this day. :( |

June, '03

| | |
| --- | --- |
| A Trip Report by Jason Rite | |
Spirits were high as Pina and I began our descent of the Tioga Pass late that afternoon. It had been a beautiful drive thus far, but we were both ready to reach camp IV, crack a cold one with an old friend and just soak up the climbing atmosphere. I couldn't believe I was about to find myself in "the valley"; a vague reference to a common geological formation to most, those two little words evoke a more visceral response from a particular demographic. Mecca and Shangri-la are adjectives commonly employed to describe the Yosemite Valley in climbing circles – especially among those who have a fever for the flavor of big walls. It wasn't long before we were making our way down that winding valley road towards our destination. The sun was just setting and a warm, soft glow was washing over the entire valley. I had just eased the seat back a bit and turned up the radio when "it" came into view – the largest rock formation I had ever laid eyes on. Sure I had seen pictures of El Cap in magazines and online, but nothing could have prepared me for the sheer immensity of that bad boy. I suddenly became aware why that powerful appellation was granted to this mighty rock!
I knew I wouldn't be setting foot near El Cap this trip, and probably not for years to come, but I was still suddenly gripped with fear. My thoughts turned to previous climbing excursions with Brad – they had all been mere boulder problems compared to these routes! What was I doing here? What made me think I had sufficient skills in my climbing arsenal to tackle rocks like these? I loved a challenge, and up to that point, I had never backed down from anything as that was generally not encouraged in the BBIOYHATSC (for those of you not in the know that's the - Brad Brandewie In Over Your Head All the Time School of Climbing), but I felt this would likely put that doctrine to the test. After all, climbing in over your head out here meant something entirely different than getting off route on Cat in the Hat – but that's a different story altogether (insert link here).
Pina and I reached camp IV after spending an inordinate amount of time gaping at the Cap only to find Brad rooting through his truck in the parking lot. I took a good long look at what a week in the valley had done to him. In one respect I was encouraged to see he was still alive, but on the other hand I was a little discouraged in seeing his haggard visage, worn and weathered after an epic day on the East Buttress of El Cap a few days prior. We greeted one another warmly and he ushered us to the place we would call home for the next week. I was soon introduced to a giant, extremely good natured - almost unusually good natured - Czech named Paul who I call a friend to this day. Soon we were enjoying a roaring fire and taking in war stories from our fellow climbers late into the night. As the fire slowly died we all melted away for the night one by one
I was the first to rise that morning, although I can't say I slept all that much. I stumbled over to Brad's tent and rousted him first. Some smart ass remark rolled glibly off his tongue almost immediately, which surprised me as it was only 3:30 A.M. – awfully early to be such a damn comedian! Soon Paul and Patrick emerged from their respective tents and we were gathering our gear and going over the ad hoc check list. Ropes – check, Number 3 Camalot – check, Lunch – check . . . We reached the base of the East Buttress of Middle Cathedral Rock right before sunrise and were quietly pleased with ourselves as our early start put us first in line for that five star classic. Little did I know that doesn't mean a damn thing in Bulgaria – but more on that later. Double P or P squared as I like to call them (Patrick & Paul) got us rolling and Brad and I waited in eager anticipation as the two of them disappeared from sight.
It was almost imperceptible, but around pitch 3 the floodgates opened, releasing oceans of fear that had been building in me since Brad had convinced me to come out to Yosemite. In past experiences I had always "managed" to get up routes somehow, but today I noticed a marked change. The rock seemingly flowed beneath me that day, and I was no longer concerned with merely "managing" – I genuinely began to enjoy myself and incredibly, my technique seemed to improve commensurately. I was the king of my domain and nothing could put a damper on this day – or could it?
And they came from Sofia . . . .I know no climber lives in a vacuum and we all must respect the practices and techniques of others, but sometimes they just seem to run afoul of us no matter how culturally sensitive we are. It all started on about pitch 3 or 4 – I can't remember which. We had had the entire route to ourselves up to that point, but it wasn't too terribly long before we began to detect the distant sound of leader bellowing to his second to begin climbing. Having lived in Eastern Europe, I quickly recognized the Slavic accents and put them as Macedonian, only to discover later they were Bulgarian as several tense conversations would reveal. Soon the leader of this other team was directly below me on a 10+ bolt ladder. I was struggling to free some slings with which I was happily aiding, and couldn't help but think that a fall at that moment would likely have put his lights out as he was in close enough proximity for me to catch a whiff of the foul stench emanating from his climbing shoes. It continued this way for another 2 pitches or so, both members crowding Brad and I on miniscule belay ledges, building anchors that "intertwined" with our own, generally creating a confusing and irritating situation. Brad finally blurted out – "I think you guys need to just hang out below until I get started, especially since there isn't another team behind you within striking distance". This seemed logical enough to them, and eventually they peeled off and took an alternative route to the top I think.
After that it was all gravy as they say. We reeled off the last 3 or 4 pitches in grand fashion, almost sprinting through the transcendent lieback crack sections near the top. Here I really felt like I was coming into my own. I certainly didn't resemble any of the legends of Yosemite that day, but it was a powerful, revealing journey for me in more ways than one. I realized over the course of that day that confidence and tenacity are almost as important as strength and skill. If your mind is not dialed in, your body will almost certainly not rise to the occasion and realize its full potential. As we topped out, I made another observation – good friends are absolutely the hallmark of a good climbing day. That same climb with any other group of people would not have been half as inspiring or half as satisfying. NO sport can hope to cement bonds between individuals like climbing. The four of us were tired but deliriously happy as we had accomplished something each of us would remember for a lifetime, and what's more, we relied on each other in doing so. Such is the way climbers become friends for life.
| | | | |
| --- | --- | --- | --- |
| The Cathedral Rocks with the routes marked. | When Jason arrived, we turned our attention to the East Buttress of Middle Cathedral Rock. 11 pitches 5.9 A0 | An early belay on the East Buttress. | Patrick belaying Paul on the crux bolt ladder. |
| Jason enjoying fantastic, moderate climbing up flakes and corners. | Hang Ten brother as always. The Sentinel stands proudly in the distance. | Behind every good climb... | lies a giant Czech with huge cans of good beer! |
| Pina enjoying the views from El Cap Meadows. | Jason and Pina below the Captain. | Pina working on her wide crack skills at Swan Slab. | |

June, '03

I spent the last days of my trip with Jason, Pina, Paul and Patrick in Tuolumne. We got shut down on Fairview Dome by wet rock and cold temps and faulty commitment. I was kind of bummed to end my trip on a down note, but on my drive home I realized that I was happy that we spent the last day hanging out together and talking and bouldering rather than a rope length apart on a cold windy mountain. And in the end, Patrick found a stellar, unclimbed boulder problem near our camp and we were fully contented. We named the problem Mes Amis. V2
| | | | |
| --- | --- | --- | --- |
| These first three shots are from the Tenaya Canyon overlook. | A telephoto shot of Half Dome. | Looking toward Half Dome from the road to Tuolumne. | Looking the other direction from the last two shots. |
| Fairview Dome from the top of Daff Dome. | Looking up at the start of the Regular Route on Fairview Dome. | Getting ready to numb my hands in a freezing, wet crack. | Is this fun or what? |
| Paul, showing no signs of anxiety as we bail from two pitches up the Regular Route. | My glorious road trip is at an end. | | |