August, '98
This is one of the oldest pages on piquaclimber.com. In an effort to keep some perspective, I have left anything from before 2000 in it's original format.
The Shark's Tooth (12,575 ft) | North-East Ridge 5.6
Last Thursday I got a call at work from a new friend named Lisa. I had
met Lisa only once while climbing at Red Feather Lakes so I was a little
apprehensive when she asked if I wanted to go do the 5.6 NE Ridge on the Shark's Tooth.
However, she was a good friend of my regular climbing partner Andrew, who
spoke confidently of her abilities. Also, I knew that she had climbed Hayden Spire, Dream Weaver Couloir, and Kiener's Route this summer and that she
had climbed Rainer last summer, so what the hell.
I should also note that my anxiety was compounded by the fact that I had only been leading for two months. None-the-less, like a good leader/gumbie I heard myself
say, "Right On, that sounds great, I'll be at your house (in Estes) at 4a.m.
As soon as I hung up I felt the full brunt of the anxiety, but I knew that
it was all in my head and that I could lead 5.6 with no problems, even if it
was 5 miles into the backcountry and over 12,000 feet.
The next day I called Andrew to ask if he wanted to join us and
perhaps do something harder ( I was thinking about the 5.9 variation that
skirts over to the north face.) He said that he would go but had another
partner that was going, Laurie, and that they were going to do the .9 while
Lisa and I climbed the .6. As much as I hate to admit it, I felt better
after I knew that there was going to be another party close by in case the
shit actually did hit the fan. The stage was set.
I got up at 2:50am on Saturday. Andrew arrived at 3 and we were in Estes
by 4. We picked up Lisa and headed to Glacier Gorge trailhead where we met
Laurie, who had slept in the back of her truck. We were hiking before 5. We took the
shortcut behind Glacier Knobs (This is the winter ski/snowshoe
trail) which cut about a mile off of the approach. We were at The Loch at
dawn and at the base of the Gash shortly thereafter. Then it is a lovely
half mile of boulder hopping and easy snow slopes to get to the base of the
route. I was surprised at how much snow had melted in the three weeks since I had climbed the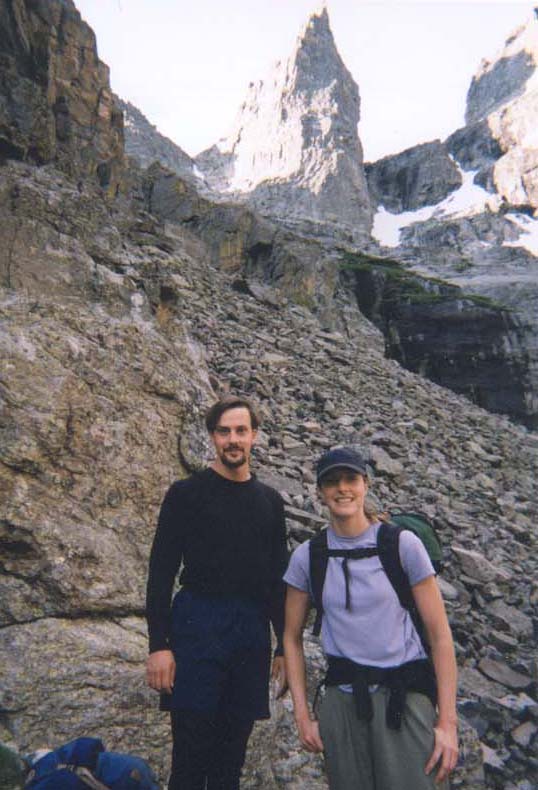 The Shark's Tooth is directly behind us.
After a short food/water break, we racked up and started the climb. We
left our boots and extra food and water at the base. I started a little before Andrew so I took the dihedral to the right and he climbed past on the left and setup a belay about 20 feet above my belay. I brought Lisa up and we then took the line left of Andrew and Laurie and headed up through a fun left facing dihedral and setup the next belay. At
this point, Andrew and Laurie started to work their way a little more
towards the North face so Lisa and I basically had the NE Ridge to ourselves.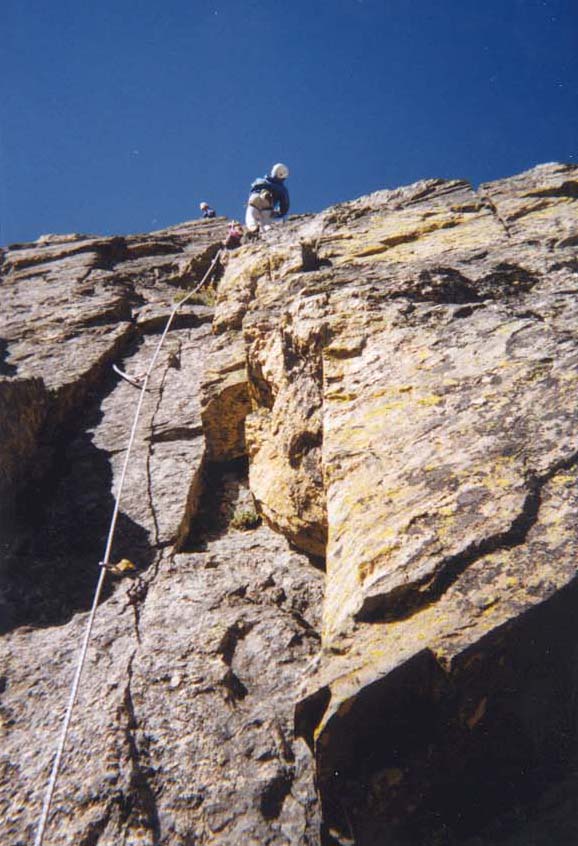 Climbing low on the spire.
The next pitch offered me my only moment of pause on the whole
climb in the form of a poorly protected hand traverse above a small roof. I
think we must have been off route at this point ( I had left the topo with Lisa)
because it did not feel like 5.6 to me. To a 2nd month leader, a slung flake (which was bomber) and a shity yellow alien that I knew would not hold a fall that are
10 feet below and 10 feet to the right is a little scary. Anyway, I started
the moves and then backed off, then I started again and decided that it was
all in my head and that the moves were only about 5.7 and I could do this.
Finally I did.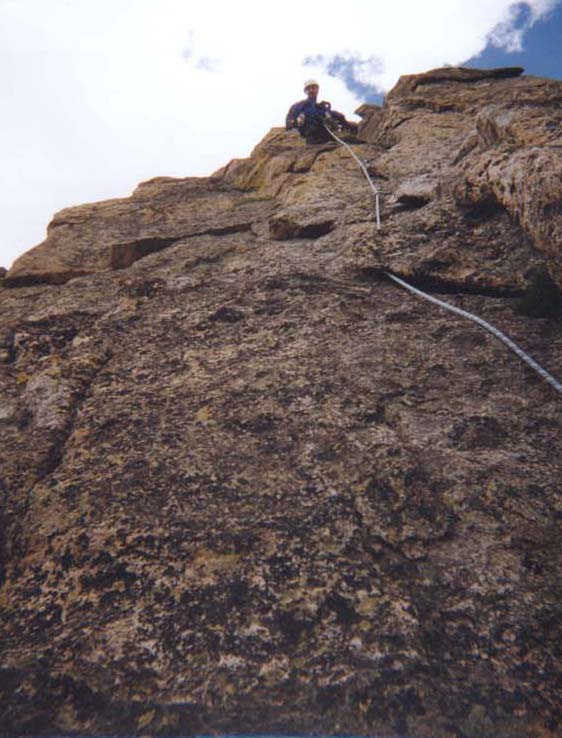 A steep pitch 300 feet from the top.
This was when I became aware of the dark clouds that were moving in
around us and realized that I was probably going to be climbing the last
three pitches wet. Let's just say that I was making some deals with God
about lightning and what I would do if I got off this rock without being hit.
Next pitch, I notice that it is lightning on Lumpy.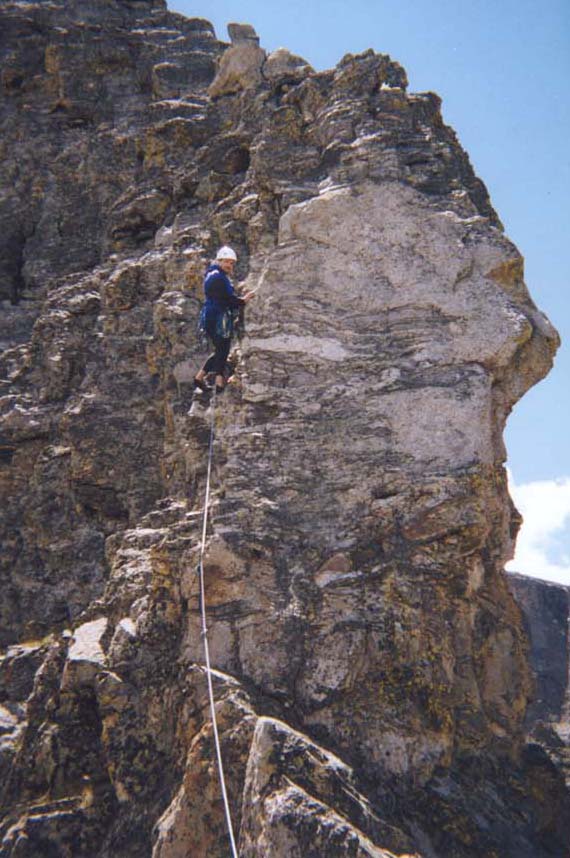 Pitch after that, it is raining to the North, East, and South of us, but
not on us. I am convinced that God has taken pity on me.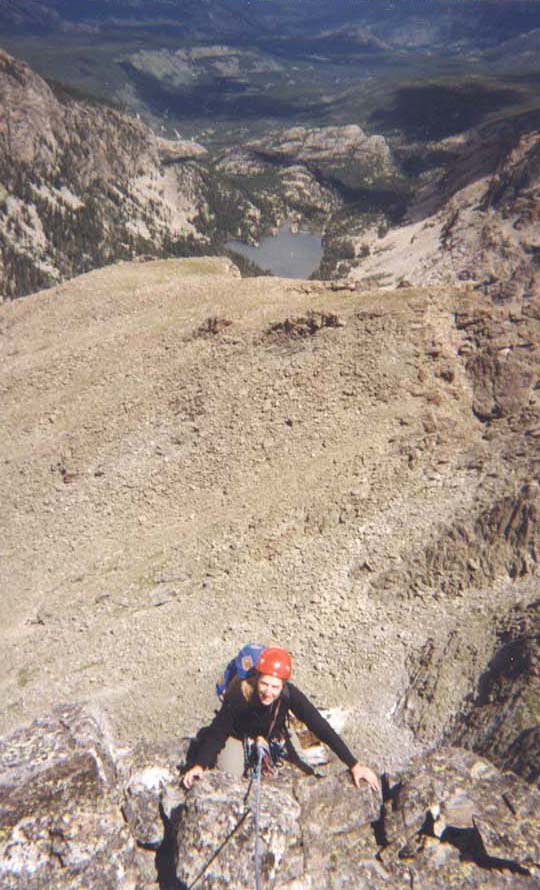 Lisa climbing high on the Ridge. The Loch (a pond) is visible in the background.
Last pitch, I get a descent view to the West and see that the storms
have blown through so we relax and take our time. This turned out to be great as the last pitch offers the best exposure. We cruised the pseudo-knife edge to the top and found the 5.4 down climb that took us to the first rappel anchors. We did a single rope rappel to a big grassy ledge. We then simo-rapped the last two double rope rappels down the East Gully route and scrambled back to the base of the route from the col.
The hike out was uneventful and went quickly. Still, it was a long day,
about 15 hours total and I was happy to do nothing for the rest of the
night.

Lessons learned: God sometimes takes pity of leader/gumbies.

Brad


<![if !supportLineBreakNewLine]>
<![endif]>
<![if !supportEmptyParas]> <![endif]>