Spring, '99
This is one of the oldest pages on piquaclimber.com. In an effort to keep some perspective, I have left anything from before 2000 in it's original format.
Dream Weaver Couloir on Mount Meeker AI2+ Spring,1999
<![if !supportEmptyParas]> <![endif]>
      I have wanted to expand my climbing into snow and ice for a
while now but have just not been able to make it happen for a variety of
reasons. (mostly because I can't tear myself away from rock climbing)
<![if !supportEmptyParas]> <![endif]>
      This weekend was to be my first big alpine snow/ice climb. Lisa calls and we make plans to climb a route on Mount Meeker called Dream Weaver. This is a 1,600 foot snow couloir on the north side of the mountain. The route can vary from 35-50 degrees and be anything from soft snow to hard ice.
      Friday night found me packing and trying to justify leaving as much
gear at home as I could. In the end, I took:
boots

socks (liner and Smartwool)

synthetic long underwear (top and bottom)

a layer of fleece (top and bottom)

Gore-Tex shell (top and bottom)

gaiters

climbing harness

7mm rappel cord

a set of nuts

5 cams

10 slings

16 karabiners

compass and map

hat

headband

gloves

two liters of water

a little food

crampons

camera ***

1 mountain ice axe

1 technical ice axe

headlamp

med kit
<![if !supportEmptyParas]> <![endif]>
      So I finally finish packing everything and drift off to sleep on my
couch. At 1:30am my alarm goes off. Yes, let me say that again, at 1:30am my
alarm goes off. My first though is "what the hell have I done". However,
knowing that I am to meet Lisa in a parking lot in Estes Park (1 hour away)
at 2:40 am, I jump up, through my pack in the truck and hit the road. On the
drive up, I try to psyche myself up by remembering all the stories I have read about great alpinists. I tell myself that this is nothing compared to what Jerzy Kukuczka has done. Jerzy is one of my heroes of climbing and has been described as being "a mental rhinoceros, unequaled in his ability to suffer or his unresponsiveness to danger". Well, I am still pretty damn responsive to
danger, but this has to be a step in the right direction as far as suffering
goes.
      2:30 am, I arrive at the parking lot. Lisa arrives a few minutes
later and we jump in my truck and head to the Long's Peak trailhead at 9,400
feet.
We are hiking by 3am. The first 4.5 miles go quickly as we hike by
headlamp. As sunrise hits us, we are approaching Chasm Lake, which is at the base of Long's Peak and a quarter mile from the base of Mount Meeker. (This has been described as the most beautiful mountain cirque in Colorado) We leave the trail here and hike up across boulders to the base of the route. We take a
break at the base and eat and drink.
| | |
| --- | --- |
| | This is the last quarter mile of the approach. We are at about 12,000 feet here. The obvious snow is the start of Dream Weaver. The Flying Buttress is the giant fin of rock on the right. |
It is about 6:30 when we start climbing. The beginning of the route is kind of steep but not steep enough to warrant ropes so we don our crampons, get out our ice axes and start up. The snow here is right at the limit of what I think I could self arrest if I were to slip. (Self arrest means to use your ice axe to dig into the snow to stop yourself if you are sliding down a snow slope) We climb a couple hundred feet in a wide section of snow and then the couloir narrows down to 3 feet wide with a small rock wall on the left and a huge rock formation on the right called the Flying Buttress. The Flying Buttress is about 700 feet tall and quite imposing. The snow gets steeper where it narrows but does not go above 45 degrees. We decide that ropes are not required yet and continue climbing.
| | |
| --- | --- |
| | I am just finishing the first narrow section in this picture. The rock on the left is the Flying Buttress. |
On these snow sections the safest way to ascend is to plant both your feet, plunge your ice axe shaft into the snow in front of you, and move your feet up another step. That way if your feet slip, your axe will likely catch you before you start to slide.
After another section of moderately steep snow, we come to another narrow section that is somewhat melted out. This means that we must get past a section of mixed climbing. (mixed climbing means some rock and some ice and some rock covered with ice) This is the second of three cruxes of the climb. (crux = the most difficult section of a climb) Still, the section is not too long and it is only 3 feet wide again so we can use the walls on each side of the couloir for hand holds. Again we discuss getting out the ropes, and both decide that we feel comfortable. (Lisa and I have an agreement that if anyone in the group feels like they want to be roped up, we rope up) The mixed section is interesting and I am comforted by the ability to stand on tiny edges of rock with the front points of my crampons. At this point, we are also swinging our ice axes into the ice above us, to provide some security.
After the second crux, we head up yet another moderately steep snow section and gain the top of the Flying Buttress and a nice level section on which to take a break and eat and drink. The wind here really started to pick up and almost blew away a 25lb backpack. After "running" down the couloir on uneven rocky ground wearing crampons (NOT recommended), we catch the pack and breath a sigh of relief. (If the pack had reached the top of the moderate snow, it would have gone 700 feet to the base of the mountain.)
After a short lunch, we decide to start moving again; partly because we are excited to get the third crux (which we could see from out break area) and partly to get out of the wind.
It is a little slow going here as we are already over 13,000 feet and breathing is a little harder. Not a big deal, but if I were to
sprint a 100 yard dash at this elevation, I may pass out cold. As it was, we
had a rhythm of climbing about 30 feet and stopping to catching out breath.
From our break area, we climbed on solid rock for about 40 feet in
our crampons and then got on the steepest snow/ice section of the entire climb. 55 degrees and really fun. Again, we talk about ropes and again we head up unroped.
| | |
| --- | --- |
| | If you look at the expanded version of this picture, you can see the top of the Flying Buttress jutting out about 300 feet below me. |
After 100 feet of this steep snow, we hit the crux of
the whole climb. It is another 3 foot wide section but this time it is
mostly water ice. (water ice is the consistency of an ice cube from the
freezer) More rope talk. I decide to go up and look at it before we break
into the packs for the ropes and harnesses. I move up, can't decide... move
up, can't decide, move up and now I am half way through the crux. I am
standing on my front points in solid ice, I am using my ice axe in one hand
which is firmly planted in the ice above and I am using icy rock holds with
my other hand. I debate getting out my technical ice axe. I move up again...
test my axe placement... decide to go for it, and work my way up to the top of
the narrow water ice section.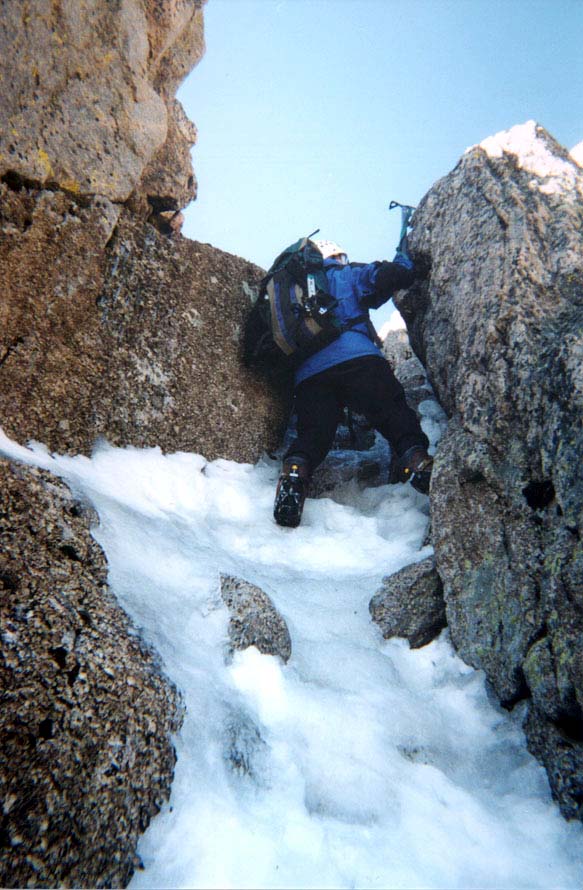 The Crux
Above this section I let out a yell of exhilaration and ask Lisa if she would like me to drop her a rope. She says that she wants to get out her second ice tool and give it a go solo. She climbs the section with no problems and gets to the top in style. High fives ensue. Now we are only a snow slope from the summit at 13,911 feet.
| | |
| --- | --- |
| | If you look at the expanded version of this picture, you can see the trail that we hiked to get to Chasm Lake. Once we get back down to the trail, it is still 4.5 miles to the truck. |
We gain the summit a little after 10am and congratulate ourselves. The views are incredible. We see snow covered mountains 75 miles away. The summit of Meeker actually has a two summits (east and west) and we traverse on a sharp ridge to both summits to find a register to sign.
The Summit
Reading the names on the summit register is always fun. This day we see that Peter Habler from Austria has climbed the mountain a couple months before us. He and Reinhold Messner were the first people to climb Everest without oxygen. He is an incredible alpinist and is actually on Everest again right now. We sign our names and totally fall asleep on the summit for a while. When we wake up we debate heading over to summit Long's but decide that the technical route we wanted to do was too dangerous and committing for us. We don't want to go if it is just a hike so we decide to descend a class 3 route called Iron Gates.
The descent is long but easy and we find ourselves back at the base of the mountain taking another long break. All that's left is the 4.5 mile hike back to the car and a drive to town to get some food and drink. It was a 16 hour day and we gained and lost 4,500 vertical feet. On the way to get some food, we discussed our next objective... The Spearhead.
Brad
<![if !supportEmptyParas]>
*** I lost my camera on this trip which is why there are no pictures of Lisa. Sorry Lisa.
<![if !supportEmptyParas]> <![endif]>