This is one of the oldest pages on piquaclimber.com. In an effort to keep some perspective, I have left anything from before 2000 in it's original format.
<![if !supportEmptyParas]> <![endif]>
The Pear, Lumpy Ridge, Rocky Mountain NP | Chrome Plated 5.7
<![if !supportEmptyParas]> <![endif]>
I have been trying to keep track of the climbs that I have done so I
have decided to try to write trip reports for the more memorable
experiences. About a month and a half ago I turned 25...(ok 27 but who's
counting) and my two great friends and climbing partners (Andrew and Lisa)
and I decided to celebrate the occasion by going climbing at Lumpy Ridge.
The only catch was that my birthday fell on a Friday and we all had to work.
However, since we are all a "little" addicted to climbing, we decided not to
let a little thing like darkness stop us. We all own headlamps right? So the
plan was to climb a formation called The Pear which is on Lumpy Ridge in
Rocky Mountain National Park. This route is usually done in 5 pitches but we
have a longer rope than most so we were able to do the climb in 3 pitches
with a little unroped scrambling.
      I got off work at 5 sharp and headed straight to the trailhead to meet
Lisa and Andrew. At the trailhead, we sorted gear and ropes and headed down
the 1.5 mile approach to the base of the route.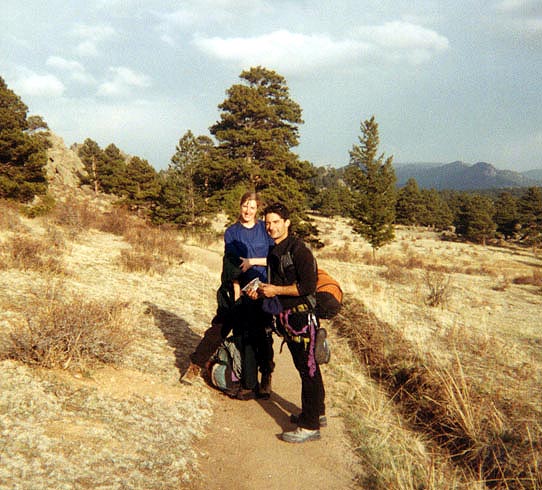 It's still light at this point so we start debating what climb to do. We
had planned to climb The Chrome Plated Semi-Automatic Enema Syringe. (Yes
climbers can be quite weird!) Chrome Plated is rated 5.7. However, there is
another route that you can climb for the first pitch and then join Chrome
Plated up higher. The problem is that this climb is rated 5.10a. (that means
it is right at my limit and it is a 50/50 proposition whether or not I will
fall.) I'm feeling a little cocky at this point so I decided that I want to
lead this pitch. It will be way harder than anything I have ever led, but it
is a bolted route and once you clip the first bolt it is a relatively safe
place to take a fall. The problem is that the first bolt is 20 feet up the
wall. After a short internal debate,. I decide that I can climb this thing.
I tie in and begin up the unprotected start. I should also mention that the
base of the climb is a collection of boulders and generally unforgiving
terrain so falling before you clip the first bolt is a really bad idea. I
move up about 10 feet on nothing but friction. (no holds, just a steep slab
of rock that you basically try to "walk" up) It is not too difficult and I
am feeling good. Then comes the hard section.
The first bolt is about 10 feet above me still and I am standing on little
rock protrusions that are smaller than a quarter. The next move requires me to
step up on even smaller "nubbins" which are the size of a penny. After that,
it is two more  moves up on tiny holds (we're down to dime size things here)
before you can reach the bolt and clip in so that you are safe. I stood up on
the quarter size holds (my feet are now about 13 feet off the deck) and contemplated
the next move. I started to get scared and my leg started shaking (think Elvis) so I
decided to just step up on the next set of holds and hope it got better.
Of course it got worse and I was really starting to worry about breaking an
ankle or worse. My leg starts shaking again and before I know it, my feet
are sliding down the wall and the rest of me is following. I slide down the
wall about 2 feet and my feet finally catch on another tiny hold. I am
sweating by now and am only thinking about getting off this rock. Actually
my though process is more like Please God... Oh shit... Please God... Oh
shit. Luckily, I stopped sliding at a point where I could down climb to the
base. OK, so I guess I can't lead that one quite yet and I scamper over to
the start of the easy route. Without letting myself think too much about
what just happened, I prepare to head up. It is getting dark now and I put on my
headlamp.
      After trying to climb unprotected 5.10, climbing this 5.7 route that
is easily protectable seems really easy and I climb 200 feet in about 10
minutes. I set an anchor and bring up Lisa and Andrew. The next lead is
Andrew's and by now it is almost pitch black. The whole experience is
limited to the 5 feet around you. You know the exposure is there, but you
can't see it so you tend to forget about it. Andrew leads up and over this
roof and is out of sight of Lisa and I who are still at the top of the first
pitch.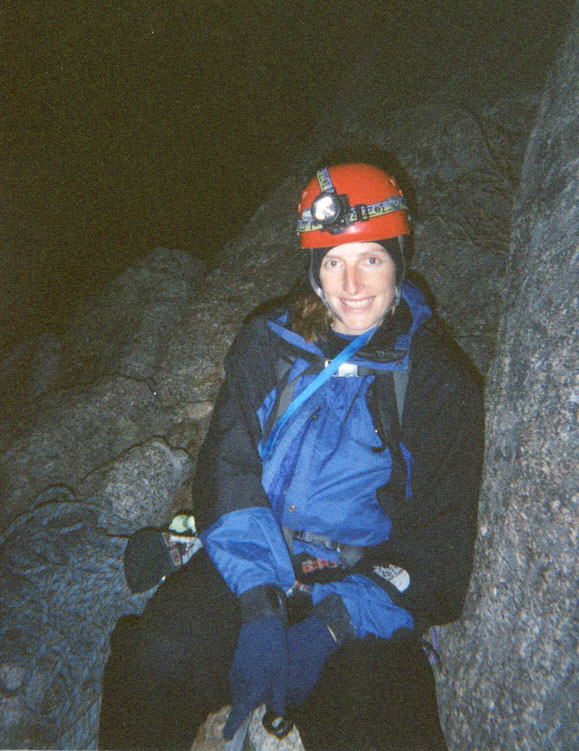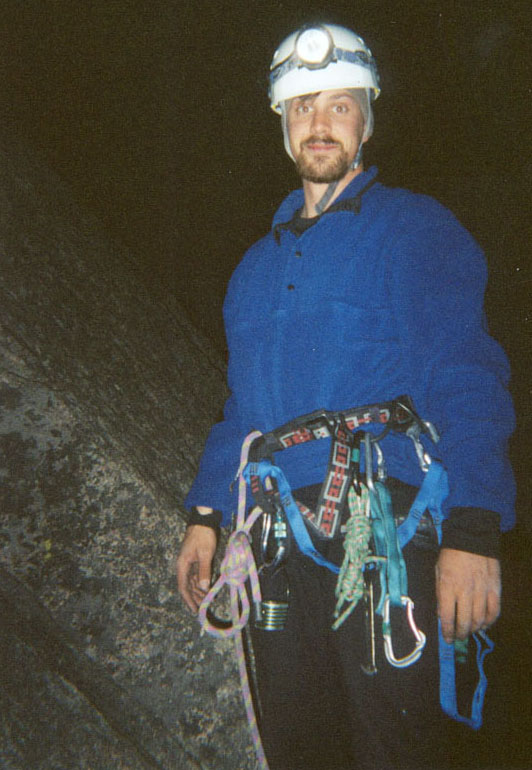 After about 20 minutes, we hear Andrew yell that he's ready for us to
climb. Lisa heads up second and takes a fall on the roof move. Now I have
taken a lot of falls climbing on second, but, as Lisa will tell you, falling
at night is a little scarier. She pressed on though and climbed the roof on
her second try. Then it was my turn. As I climbed, I realized that Lisa had
climbed over the roof about 5 feet below me which meant that her route was
more difficult.  I climbed the roof which involved standing on a little
pillar of rock so  you could reach some holds above the roof. (when you are
standing on the pillar, the roof is at about neck height) Once you get the
hand holds, you have to throw your right foot up to  a knob of rock that is
about chest level and about 2 feet to the right (you are in a really awkward
position now) and rock your weight onto that right foot. It was quite fun
and exciting by headlamp. From there it was an easy romp with no protection.
No protection is no  big deal when you are not leading but Andrew had an
exciting time above the roof. You have to climb about 40 feet unprotected.
That would mean an 80+ foot fall if he came off.
      From the top of the second pitch we unroped and scrambled up about
50 feet until it started to get steep again. The next pitch was mine and was
fairly uneventful. There were a couple tricky sections but it was well
protected. In about 20 minutes, I was standing on top of the formation and
bringing Andrew and Lisa up. We rappelled off the top, which was fun in the
dark. (when you look down, you can't see the ground, just your ropes heading
down into the darkness)
      A little hiking put us back at the base of the formation and then on
to the trailhead. A great night and a great way to spend a birthday.
<![if !supportEmptyParas]> <![endif]>